And lo! The most enduring movie franchise in history was born. One reason the Bond series has been so successful is that they really got it right from the beginning. Watching Dr. No, it's surprising how familiar a lot of it feels–not in a negative way, but in how you can clearly see how every Bond movie that followed takes its cues from this one. Perhaps that shouldn't be shocking given that Dr. No basically copied the formula Ian Fleming had long since established for the books the movie is based on, but every decision made in adapting 007 for the screen was incredibly smart. The casting, the elaborate cinematography and set design, the scoring–these are the things that elevated Dr. No from pulpy entertainment to classic.
That doesn't mean there weren't bumps along the way. Producers actually wanted Thunderball to be the first movie (and so did Fleming), but legal trouble surrounding the title prevented them from using it right away. These legal troubles would plague the series for the next fifty years (see my Thunderball review for more on that). Fleming also hated the actor selected to play 007. He had envisioned Bond as a David Niven type and thought Sean Connery was too rough around the edges to portray that. It may have created tension during pre-production and filming, but when Fleming saw the finished product he had the grace to admit he had been wrong about Connery.
In the end, Dr. No was such a success that the studio fast-tracked the sequel, From Russia With Love, so that it was released the following year, and a franchise was born.

Dr. No (1962)
When I first wrote this review I called Dr. No boring. I've rewatched it twice since then and I'm ashamed of that initial reaction. In fact, it's kind of surprising how Dr. No holds up so well given how campy a lot of the early movies were. I think my first reaction was based on how easy it is to think of the Bond series by its excesses: girls, nonsensical plots that are just an excuse to get from set piece to set piece, and saving the world. Dr. No is so much simpler than all that.
When an agent named Strangways is killed, Bond is sent to Jamaica to investigate, uncovering a nefarious plot by Dr. No (Joseph Wiseman) to disrupt the U.S. space program with a radio beam on behalf of SPECTRE. That's it. You can rarely describe the plot of a Bond movie in a single sentence like that. More than any other movie, Bond is the center of everything. There are sidekicks and three Bond Girls, but their parts are relatively small. It's impressive how all the elements that would become standard are there (gadgets, exotic locations, an elaborate lair for the villain, Bond girl, etc.), but it's refreshing how here they service the plot more than they check a box.
Dr. No was the sixth book in Fleming's series (Casino Royale was the first, and it wouldn't be adapted for film until 2006), but it proved to be the perfect casual introduction to the world of James Bond.
The Man Playing Bond
Fleming's initial skepticism be damned: with his debonair style and droll wit, Connery is the person most people conjure when they think of Bond. And for good reason: he had a way of taking cheesy lines and delivering them with enough of a wink to sell them, but enough heft to ground them in reality. He and Daniel Craig are also the only Bonds who understood that the character is something of an asshole and play to that while somehow remaining likable. It helps that Connery is also a seriously suave and handsome man. Definitely top two if the Bonds were ranked by attractiveness (what can I say? I'm a sucker for Daniel Craig). Mainly, it just doesn't seem like Connery is trying very hard. He's naturally Bond. At times he almost seems bored, and that just heightens the ease he has at assuming this role.
Notable Firsts
We meet Lois Maxwell's Moneypenny for the first time. I adore Lois Maxwell. She barely has any screen time, but over the next twenty years, she clearly had a lot of fun with the role. I can never quite remember M, who is also introduced here, in most movies, but I always remember Lois Maxwell. The Dalton and Brosnan films turned the character into something of a sad, comic spinster. Lois Maxwell would have had none of that: her Moneypenny flirts with 007 but remains efficient, dignified, and capable. We also meet Bond's American ally, CIA agent Felix Leiter (here played by Jack Lord). He'll make many appearances in the series, played by several different actors, always in a sort of sidekick role. We also kind of see Q for the first time, here known as Major Boothroyd and played by someone other than the man who would make Q famous after his debut in From Russia With Love.
Bond Girl
Ursula Andress forever defined Bond Girls when she played Honey Ryder and walked out of the ocean in a white bikini. Every Bond girl since has been trying to live up to that entrance. None have quite matched her, though (to be fair) a few have come close. It's disappointing, then, to realize that she only shows up for the last third of the movie. And while she's street smart and talks tough, she quickly becomes a pretty sex toy in need of rescuing. Andress holds her own better than most actresses will in that position, but it's still disappointing and problematic–even though this is far from the most egregious crime against feminism the series will commit. And even though her voice was dubbed, Andress embodies the part so well that despite her lack of screen time, Honey Ryder makes a lasting impression.
Supporting Bond Girls
The very first Bond Girl to seduce 007 is Eunice Gayson's Sylvia Trench. Producers brought Gayson back for a small appearance in From Russia with Love before wisely abandoning the idea that Bond has a girlfriend back home. Her appearance here is the only one officially counted in the canon and that's just fine: here, she's sleek, cool, and sexy. Bringing her back nearly ruined her dignity. Then we have the first femme fatale-ish Bond girl, Miss Taro (Zena Marshall), secretary to the Colonial Secretary in Jamaica and informant to Dr. No. She tries to seduce Bond to lure him into an ambush and ends up getting arrested–a fate much kinder than that of most villainess Bond girls later in the series.
Villain
Like Andress, Joseph Wiseman does a pretty good job setting a standard that the rest of the series will follow pretty closely. However, aside from being Bond's first cinematic antagonist, there really isn't much memorable about Dr. No. His successors have a lot more to recommend them. He's creepy as hell, but that's about it. Maybe the problem is more that he's a touch underused. He's fiercely intelligent, cold, and menacing, but he's vanquished very quickly after being introduced on camera. It is amusing to note that Dr. No was intended to be Chinese. Joseph Wiseman, who is decidedly not Asian in the slightest, wore makeup to evoke Chinese ancestry, but thankfully it was pretty subtle.
Theme Song
What else for Bond's inaugural onscreen appearance? "The James Bond Theme," composed by Monty Norman. The song most closely associated with Bond, it returns in every single movie. If you're anything like me, you probably hummed it to yourself every time you played spy as a kid (or maybe as an adult).
Iconic Moment
Did I mention Ursula Andress walking onto the beach in a white bikini?
Grades: Movie: 5/5; Bond girl: 5/5; Villain: 4/5; Theme song: 5/5
For more 007, as well as 'Best of' and 'Worst of' lists, check out my Bond Project page. Up next: From Russia With Love.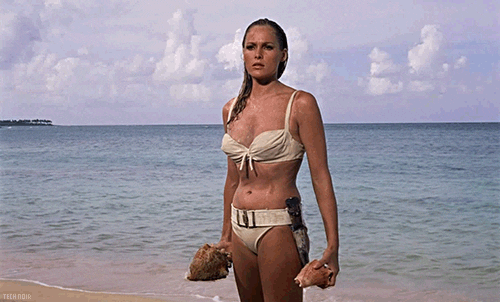 Bonus photos: