On #InternationalWomensDay, I thought it would be important to stop and take a look at literature's most famous female character. Ask people who their favorite literary character is and you're bound to get a wide variety of results. But I'd be willing to bet that Elizabeth Bennet would be near the top. Sure, she represents half of literature's most beloved romantic couple, but Elizabeth is just as loved for who she is and what she represents.
Pride and Prejudice avoids direct political statements, but it's clear that Elizabeth's intelligence and outspokenness put her at odds with what society expected of women at the time. It's easy to forget this, but her sister Jane would actually be the most prized Bennet sister. Jane is as smart as Elizabeth but more soft-spoken. Some say she doesn't speak her mind as freely as her sister, but I would contend that Jane is simply so agreeable that she doesn't have as many opinions to express as Elizabeth in the first place. Jane also reads, sews, and is musical. Jane embodies everything society thought women should be at the time.
Which is funny because I've always thought Jane is bland to the max. I mean, she's lovely. I would certainly rather hang out with her than Lydia or Kitty, but Jane if you look up 'vanilla' in the dictionary I'm pretty sure there's an illustration of Jane.
Elizabeth is in a more uncertain position than Jane. She is her father's favorite child, prized for her quick wit, but her mother's least favorite. Her mother just wishes Elizabeth would stop talking so smart and get a husband. Her mother may be a comical exaggeration of a meddling mother, but it seems clear that most of the people Elizabeth encounters fall on the mother's side rather than the father's. For her part, Elizabeth isn't too fond of her mother, either. She longs for the freedom to make her own choices and follow her own heart.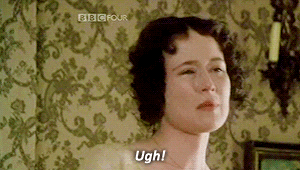 Given that Pride and Prejudice is a romantic comedy, it all works out for Elizabeth. She gets to make both of her parents and herself happy in the end by falling for a man who loves her for the spitfire she is. He even has a nice library in his home.
The sad reality is that Elizabeth Bennet's story still speaks to so many people because it's still relevant 204 years after it was first published. There are still too many women caught between expectation and desire–who feel that being outspoken or having an opinion will displace them. Small wonder that Elizabeth Bennet is frequently seen as #LifeGoals: 200 years later we're still trying to normalize a woman's ability to speak her mind. Until we get there, Elizabeth will continue to be relevant. And once we do get there (hopefully faster than another 200 years), I hope people still look to Elizabeth Bennet and admire her in a new light. Perhaps as Elizabeth Bennet: feminist icon.